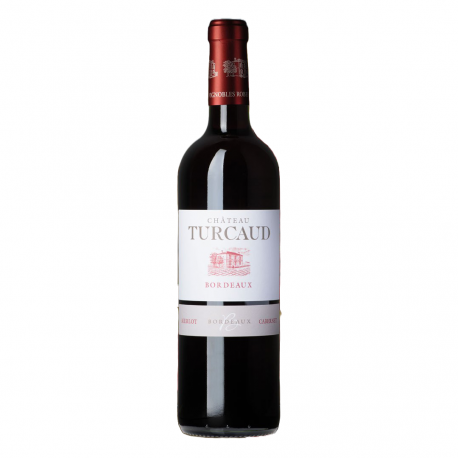 Château Turcaud Rouge
The Château Turcaud Rouge brings to the palate a freshness and a good length with a persistent fruitiness.
Appellation
Bordeaux Rouge AOC
Vintage
2018
Grapes and vinification
Bordeaux Rouge - 70% Merlot - 30% Cabernet Sauvignon Winemaking: The grapes are machine harvested, but we sort the grapes systematically by hand before the harvest. Turcaud rouge is aged for about 18 months (two thirds in vat and one third in barrels). A final blend is made before bottling at the château.
Colour
Beautiful garnet-red colour with purple highlights.
Nose
Spicy (pepper, clove and eucalyptus), blackberry and red fruit aromas with toasty, smoky, and forest floor overtones.
Palate
The freshness on the nose is also to be found on the palate. Good, long, fruity aftertaste. The tannin becomes more round and the wine altogether more balanced after several months bottling.
Tasting advice
Can be enjoyed even when quite young thanks to its intrinsic fruitiness, and even benefits from being served slightly chilled. This wine reaches its peak within five to eight years after the vintage, slightly longer if in magnum. It pairs beautifully with poultry and red meat, especially entrecôte steak cooked over vine cuttings, as well as the cheese platter.