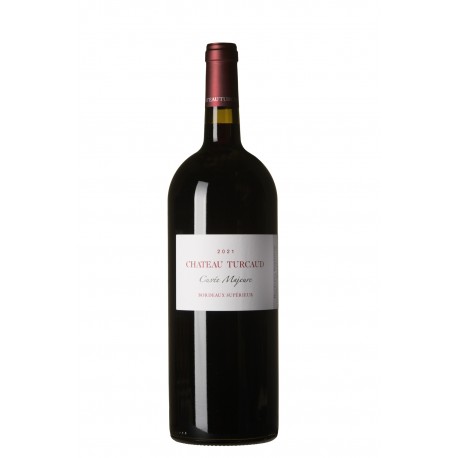 Magnum Cuvée Majeure Rouge
Sold in packs of 3, the magnums of Château Turcaud Cuvée Majeure Rouge Bordeaux Superior AOC contain a rich, concentrated, fleshy and ripe wine, with freshness. The 1.5l container is ideal for slower aging and therefore longer storage in your cellar.
Appellation
Bordeaux Supérieur AOC
Vintage
2020
Grapes and vinification
65% merlot, 35 % cabernet sauvignon. Ageing: about 15 months in oak barrels (new barrels and ones used for 1 or 2 previous vintages). Winemaking: This prestige cuvée is made from the estate's finest gravelly plots. Representing just 10 to 15% of the château's total production of red wine.
Colour
Intense garnet-red.
Nose
Aromas of very ripe red fruit and spice with toastiness, and smokiness due both to our terroir and long barrel ageing.
Palate
Rich, concentrated, full-bodied, and ripe, but also fresh. Long barrel ageing makes the tannins quite soft and the wine altogether round and pleasing.
Tasting advice
This is the ideal wine for full-flavoured meats such as rib of beef, game, duck breast, and strong cheeses. It can be enjoyed 2-3 years after the vintage, but is best decanted one hour before the meal. This wine can age well for a decade, and should be served at cool room temperature.