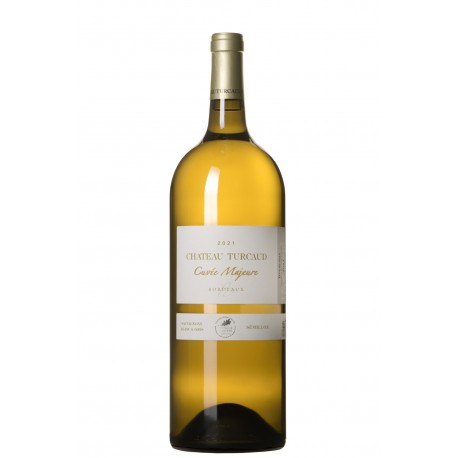 Magnum Cuvée Majeure Blanc
Sold in cases of 3, the magnums of Château Turcaud Cuvée Majeure Blanc is a delicate and complex Bordeaux Blanc AOC, with fruity aromas of dry apricot, fresh hazelnut and Williams pear.
Appellation
Bordeaux Blanc AOC
Vintage
2021
Grapes and vinification
65% sauvignon, 35% sémillon from our most gravelly plots. Winemaking: Skin contact followed by alcoholic fermentation in oak barrels.. The wine then goes on to age for 8 months in barrel and is stirred with a stick (bâtonnage) once a week to put the lees into suspension in order to produce more complex, aromatic wine.
Colour
Brilliant soft straw-yellow which deepens somewhat with age.
Nose
Spicy (pepper, clove and eucalyptus), blackberry and red fruit aromas with toasty, smoky, and forest floor overtones.
Palate
The fruitiness on the nose follows through on the palate, which is rich and long.
Tasting advice
This wine is at its best as an aperitif or with marinated salmon, foie gras, fish terrine, scampi, scallops, lobster, fish in a sauce, white meat, and most cheeses. It can benefit from decanting a half hour to a full hour before the meal, and is ideal served chilled but not too cold. Generally at its peak after 2 to 5 years.